3 Reasons You Should Consider a Maintenance Agreement Plan with Your St. Albert HVAC Company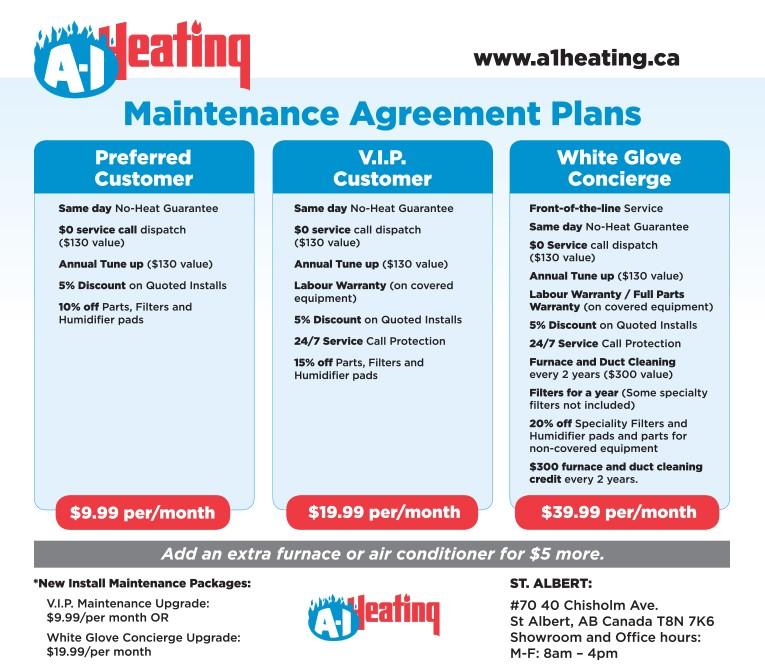 Much like most things in life, your furnace needs routine maintenance to keep it running in good condition. But what's the best way to maintain your furnace, while not breaking the bank? A maintenance agreement plan with an HVAC company is a great way to accomplish this. Here are three reasons why you should consider an annual maintenance agreement plan with your St. Albert HVAC company:
Safety: Your furnace isn't just a source of heat. For example, if you have a gas furnace, then the potential exists for carbon monoxide poisoning. Because this gas is odourless and colourless, you may not realize there is a problem until it is too late. Other safety issues can happen too, such as the possibility of fire from a system that is not well maintained.
Avoid breakdowns: The worst time for your furnace to break down is right when you need it to work. The times when it is most likely to malfunction is when you turn it on after weeks, or months of non-usage, and when temperatures reach extremes. This happens because your furnace is working harder than usual. If your furnace hasn't been properly maintained by your HVAC company, this hard usage can cause it to stop working, or not even start at all.
Save money, energy, and frustration: An aging furnace doesn't work quite as well as a new one. But with regular, professional maintenance by your HVAC company, you can save money by ensuring your system is working efficiently. Because an efficient system uses less energy, it naturally costs less to operate, and for home owners, that means less frustration and more comfort.
A working HVAC system in your St. Albert home is priceless. By having a maintenance agreement with our HVAC company, you know that your system will work well every time. For decades, A-1 Heating in St. Albert has been helping home owners take preventive care of their furnaces. To ask about the right maintenance agreement plan for you, call your trusted HVAC company, A-1 Heating, today.