Furnace Repair: What's DIY and When to Call a Technician?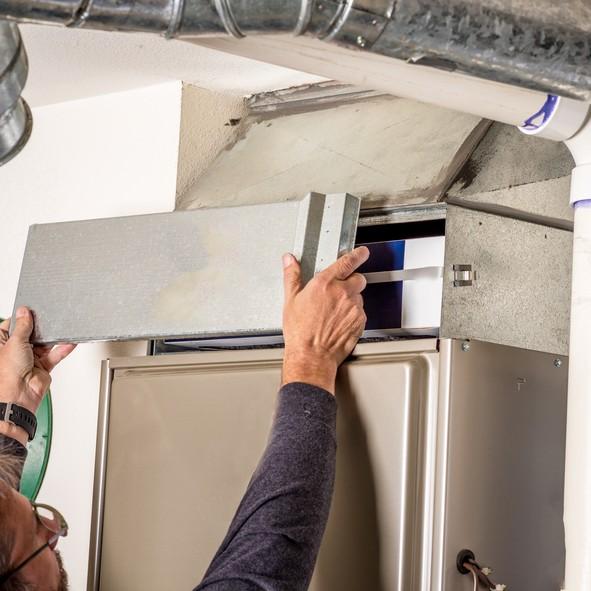 If your furnace is not performing well, it may be time to call A-1 Heating. However, not all furnace repairs need a technician; there are a few DIY fixes that can get your furnace back up and running again.
DIY Furnace Repair
Use these maintenance and troubleshooting steps to get your furnace going again:
Check & replace furnace filter: You should do this as often as recommended in your manufacturer's manual or the frequency advised by your local furnace repair experts at A-1 Heating. Changing your filter often should prevent furnace breakdowns and if air flow seems low, a clogged filter may be the culprit.
Check & replace battery in thermostat: If your furnace isn't heating your home as consistently as it should, your thermostat could be at fault. You can check by replacing the thermostat battery. If after doing so, you're still having trouble with your heating system, call A-1 for furnace repair.
Check power to furnace: If your furnace isn't coming on when it should, make sure the power is on, to save calling out an HVAC technician unnecessarily. You may need to reset the circuit breaker responsible for the furnace. Also, check that the system is set on "heat" and the switch is set to the "on" position. It's easy to overlook the obvious!
Check the pilot light: This is not as easy as in the past. Newer furnaces no longer have standing pilot lights. For greater efficiency they have turned to using a more complex (but more energy efficient and reliable) intermittent pilot or hot surface ignition system. These pilot lights/ignition systems come on only when needed according to your thermostat setting. An intermittent pilot uses a high-voltage electrical spark to light the furnace burner(s) and hot surface ignitions use a resistance heating element. Since these pilot lights are more complicated, we suggest you contact us for furnace repair.

When to Call for Expert Furnace Repair

Since your furnace involves natural gas, electrical wiring and fire, it's no surprise that you may need to call a professional for safety reasons. If the basic steps above don't solve your furnace problem, be sure to call A-1 Heating for assistance. Even if you're not comfortable changing your furnace filter, we are ready to help!

St. Albert homeowners have trusted A-1 Heating for furnace repair for nearly 40 years. When you need expert assistance with your furnace, we hope you'll call on us. We offer emergency service if you need your heat re-established immediately. Contact A-1 Heating for your furnace repair today.