Stay Comfortable All Year Long with a Bryant Furnace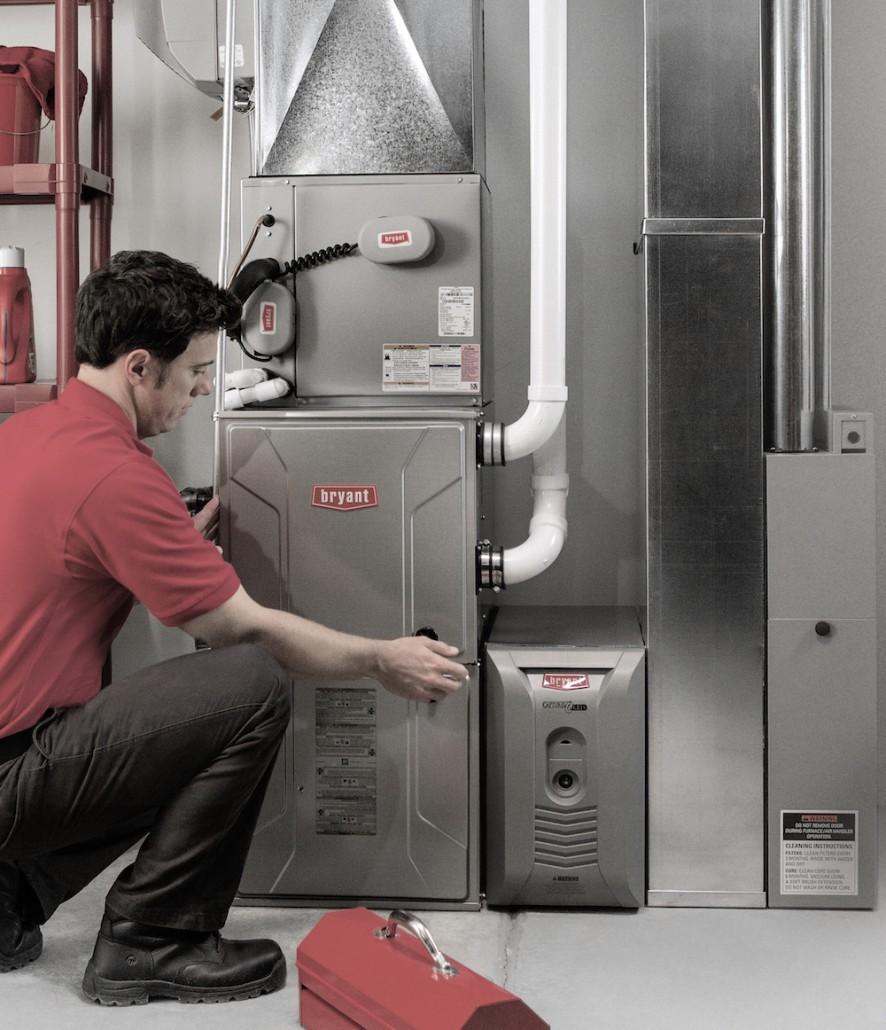 The quality of Bryant furnaces is unsurpassed, which is why we recommend and proudly serve them as a factory authorized dealer. If your existing furnace has become unreliable or inefficient, consider replacement with a new model of Bryant home heating systems.
Which Bryant Furnace is Right for Your Home?
A-1 Heating has installed hundreds of Bryant furnaces in St. Albert and area homes. Over our nearly 40 years as local HVAC contractors, we've seen Bryant furnaces perform extremely well for homeowners. Bryant offers many models and we're happy to recommend the heating system that best fits your needs.
Variable speed furnace (Evolution model)
The Evolution is top-of-the-line in heating performance and energy efficiency--and it's whisper quiet to avoid disrupting the relaxed atmosphere of your home. This system costs a bit more up front, but offers significant savings on energy costs over the next 20 years. This Bryant furnace can convert over 98 percent of natural gas fuel to heating energy—so there's very little waste.
Variable and Multi-Speed Bryant Furnace (Preferred Series)
The Preferred model is an excellent heating system at an economical price point that is only slightly less efficient in fuel use than the Evolution. Your home will be every bit as comfortable with this system, however, it won't save you quite as much on future energy bills. This model can reach up to 96.5 percent efficiency for the 2-stage variable version and is nearly as efficient in the single stage, multi-speed option.
Fixed Speed Furnaces (Legacy Series)
This heating system offers low up-front costs, and operating efficiency of up to 95 percent. An insulated unit dampens sounds for a quiet performance. Many St. Albert and area homeowners rely on the Legacy as a budget friendly way to enjoy home comfort through even the coldest winters.
Why A-1 for Your Furnace Installation?
No home heating system can perform up to its potential without expert installation. At A-1, we'll ensure you get all the features you value in your Bryant furnace and properly size your system for your home. Correct sizing (BTU capacity) is crucial to providing you consistent temperature control and the lowest possible energy bills from your Bryant heating system. We can also design or retrofit your duct system to ensure proper airflow in every part of your home.
You can count on A-1 to never cut corners or rush your project. Our skilled HVAC contractors plan your installation, using the latest industry best practices. We'll install your furnace to code for safe, efficient operation. Contact A-1 Heating and find out how a Bryant furnace can bring you ideal winter comfort for years to come.