Why You Should Consider an A-1 Heating Membership when You Book HVAC System Installation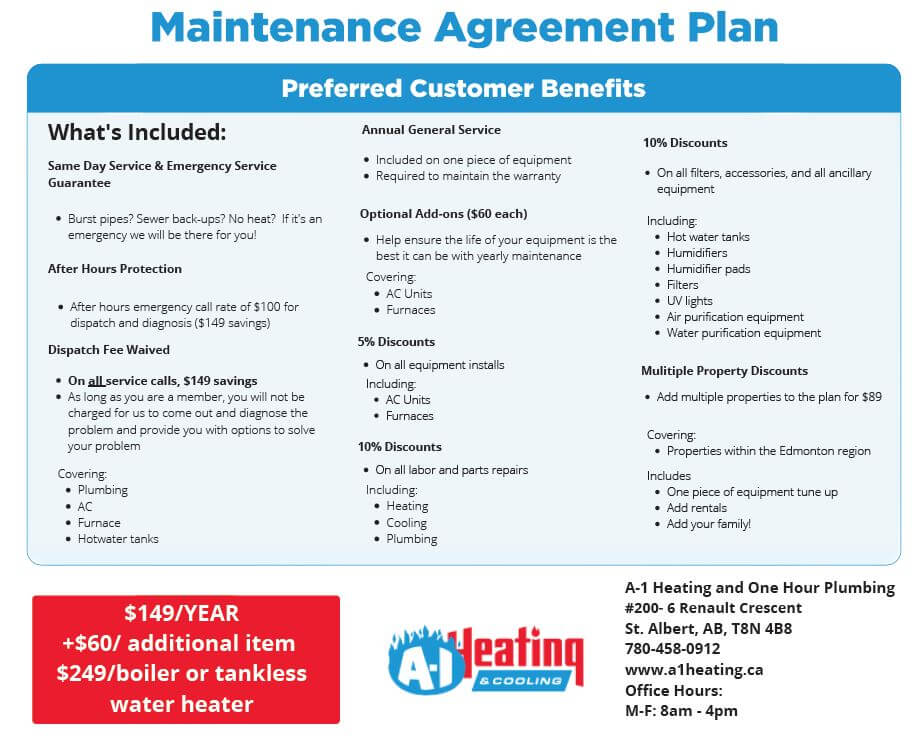 Professional maintenance is essential to keeping your HVAC system running at its best and lasting through its expected lifespan. The best way to ensure that your new unit gets the maintenance it needs is by choosing A-1 Heating & Cooling's maintenance membership plans when you book your air conditioner installation appointment. Call us today for more details!
Preferred Membership Maintenance Package
We offer St. Albert area homeowners a maintenance membership plan that is designed to fit your needs and budget. Customers normally pay one service callout fee a year on each piece of equipment. However, if you are a member of our maintenance plans, you receive a discount.
Preferred Service Plan
The Preferred Service Plan is a cost-effective option and includes the following:
Free service call dispatching
Priority scheduling with front-of-the-line service
Annual system check-up
5% discount on installation services
10% discount on parts, including AC/furnace filters and humidifier pads
24/7 service call protection
Benefits of Being a Maintenance Plan Member
By purchasing our maintenance plan when your book a furnace or air conditioner installation, you ensure that your HVAC system:
Runs cost-effectively and saves you money on your energy bills.
Helps conserve energy, which is good for the environment.
Achieves its capabilities for energy-efficiency.
Remains under its manufacturer warranty.
Continues to work reliably by avoiding expensive repairs and unexpected breakdowns.
Achieves its expected lifespan.
Continues to keep your home comfortable for years to come.
Special Offer for New HVAC System Installations
Choosing to have new HVAC system installed is an investment in your home. As an incentive to protect that investment, A-1 Heating & Cooling offers "new install maintenance packages" that give our customers a one-year membership as part of the install package.
A-1 Heating & Cooling's technicians are highly skilled and trained. You can rest assured as a maintenance plan member that your HVAC system is always in good hands. Contact us to schedule your HVAC system installation and discuss our maintenance plan membership options for St. Albert area homes.